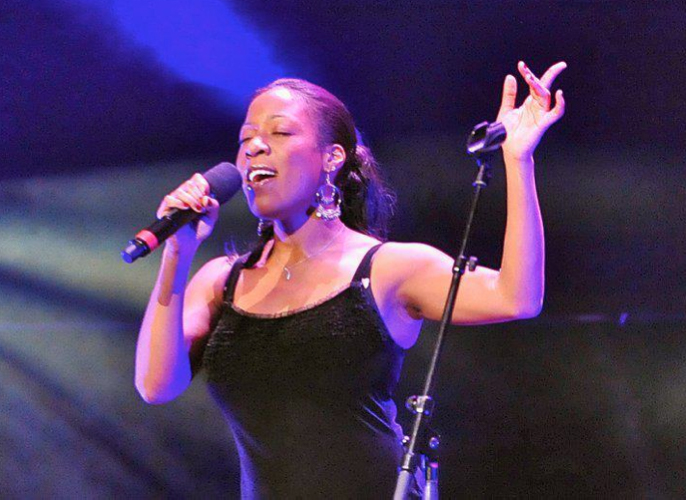 Deelee Dubé, Green Note, 4 January
Monday 31 December Ian Shaw, Vortex, London
Tues 1 January Incognito, Ronnie Scott's, London
Wed 2 Jan Giacomo Smith, Kansas Smitty's, London
Thurs 3 Jan Sarah Moule and Simon Wallace, The Pheasantry, London
Fri 4 Jan Deelee Dubé, Green Note, London
Sat 5 Jan Darren Beckett quartet with Jason Yarde, The Verdict, Brighton
Sun 6 Jan Phil Miller tribute, Vortex, London
Mon 7 Jan Calum Gourlay Big Band, Vortex, London
Tues 8 Jan (also preceding and subsequent night) Sarah-Jane Morris, Ronnie Scott's, London
Wed 9 Jan Chelsea Carmichael, Jazz Cafe, London
Thus 10 Jan Jeremy Stacey's Big Band, Ronnie Scott's, London
Fri 11 Jan Tony Kofi and the Organisation, Fleece Jazz, Stoke by Nayland, Suffolk
Sat 12 Jan Richie Buckley quintet, Arthur's, Dublin
Aaron Diehl, 13-14 Jan
Sun 13 Jan (also 14th) Aaron Diehl trio, Pizza Express Jazz Club, London
Mon 14 Jan Dominic Lash Quartet, Cafe Oto, London
Tues 15 Jan Kansas Smitty's House Band, Ronnie Scott's, London
Wed 16 Jan (in residence from 7-18 Jan) Rebecca Ferguson, Boisdale, Canary Wharf, London
Thurs 17 Jan Tori Freestone trio, Hidden Rooms, Cambridge
Fri 18 Jan Salena Jones, Brasserie Zédel, London
Sat 19 Jan Jo Harrop sings Peggy Lee feat. Tony Kofi, The Verdict, Brighton
Sun 20 Jan (afternoon) Tomorrow's Warriors jam, Rich Mix, London
Mon 21 Jan NYJO, Ronnie Scott's, London
Tues 22 Jan Neil Yates, Blue Arrow, Glasgow
Wed 23 Jan Laura Mvula and Black Voices, Kings Place, London
Jeff Ballard, Triskel, Cork, 31 January
Thurs 24 Jan Gareth Williams, Clark Tracey, Arnie Somogyi trio, East Side, Birmingham
Fri 25 Jan Florence Joelle Quartet, Brasserie Toulouse Lautrec, London
Sat 26 Jan Norma Winstone/John Parricelli/Huw Warren, Vortex, London
Sun 27 Jan Bokanté, Jacaranda Records Phase One, Liverpool
Mon 28 Jan (also previous and next two nights) Ledisi, Jazz Cafe, London
Tues 29 Jan (also previous and subsequent nights) Ruby Turner, Ronnie Scott's, London
Wed 30 Jan Dizzy Reece Routes in Jazz Retrospective, Band on the Wall, Manchester
Thurs 31 Jan Jeff Ballard Fairgrounds, Triskel, Cork 
Kind of Blau? Let's say that is a double pun because the issuing label of this latest Scott Hamilton release has been churning out records quietly for around 13 years. Beyond my hopeless Miles Davis pun ("azul" is actually Spanish for blue,"blau" being the German to spoil the fun but see also French cousin Kind of Bleu for further japes) I could not resist, the label has been very kind to us all, the homophone is quite deliberate, by completing the story first begun when Live in Barcelona was released seven years ago. 
Blau is based in the eastern Spanish city of Castellón de la Plana but rather than sketches of Spain, yep at the punning again forgive me, we are firmly in a portrait of classic romantic US jazz documented on a Catalonian night in a jazz club although the often cheesy, but not here, Consuelo Velázquez bolero 'Bésame Mucho' nods to an Hispanic provenance. Dreadful cover image though, don't you think? Art failure inducing for sure!
Hamilton is nothing if not prolific and yet like the label has the habit of ducking under the radar. Dean Street Nights for instance back in 2014 was another sort of low key release. Instead of his long-running UK quartet of pianist John Pearce, bassist Dave Green, and drummer Steve Brown who you will hear when Hamilton plays his January 2019 residency at Pizza Express Jazz Club here in top Barcelona jazz club Jamboree in November 2010 expressing the same unslavish musicianly devotion and above all exhibiting great time keeping are Gerard Nieto, piano, Ignasi González, double bass and Esteve Pi on drums cast in just the same way as Hamilton's UK pals. Stuffed with standards and swing the first release included a stirring version of 'You Are Too Beautiful' famous from the 1963 John Coltrane and Johnny Hartman LP and revived in more recent years by Kurt Elling.  
From the first volume 'You Are Too Beautiful' with Esteve Pi on drums, Hamilton on tenor saxophone, Ignasi González, double bass, and Gerard Nieto, piano. 
The Jamboree audience applaud in the right places and apart from a sneeze or so and the odd strangulated "yeah!" yakking is kept to an inaudible minimum and the room going by the sound quality has real character to it. You feel that you are there. (Oddly most live albums sound as if they have been in the microwave but this is straight from the oven.)
'I Just Found Out About Love', my least favourite melodically of all the numbers, 'Bésame Mucho', 'You Don't Know Me' ["Let's play the ballad, we got one ballad left. This is a Ray Charles song" Hamilton drawls in a speaking voice not dissimilar to Keith Jarrett's before the quartet kick into the bittersweet number], the less familiar furiously swinging 'Loose Walk', 'That's All' which featured on one of the former often unfairly dubbed young fogey's still most famous record Scott Hamilton Is a Good Wind Who Is Blowing Us No Ill (Hamilton quips: "We're going to play a ballad for you. This is one of the first tunes that I recorded. And now I'm going back and recording them all over again. So. That was a joke I'm not really. [Audience laughter] I hope not, God. This is a pretty song...") and classic Bruno Martino bossa nova 'Estate' in a marvellous version, drummer Esteve Pi coming into his own with Hamilton practically floating above the rhythm, that perfectly expressive timbre and poised control of his still a thing of easy beauty, are the tunes.
Some performances do not need praising to the skies because they are not asking to be and words however golden often can just be intrusive noise and I guess if you had been in the audience that night in Barcelona going on this evidence you would just have thanked your lucky stars however wordlessly to have been an ear witness and returned home happy. Thanks to this excellent release: today, marlbank reader, is also your lucky listening day. SG

Iain Ballamy appears at the Widcombe Social Club during the Bath Jazz Weekend on Saturday 5 January.

LOOK OUT FOR THE BATH JAZZ WEEKEND coming up. To take place in the Widcombe Social Club the new festival is promoted by Nod Knowles, formerly chief executive of Bath Festivals, and a flick through the dynamic programme indicates that its line-up includes a pretty high profile array of stars some of whom are drawn from the late-1980s and 1990s British jazz scene and who include Loose Tubes saxophonist Iain Ballamy subsequently successful with ambient electro minimalists Food and folk jazz trio Quercus; and pianist/keyboardist Jason Rebello, who was produced by Wayne Shorter on A Clearer View and later toured the world with Sting and Jeff Beck. More recent breakout bands like popular Bristol mavericks Get the Blessing are also scheduled to play. 
More details:
Friday 4 January
Dave Newton and John Pearce
European Wine Tasting
Saturday 5 January
Afternoon from midday–5pm
Karen Street's Streetworks
Iain Ballamy/Jason Rebello Quartet
Evening 
Tony Orrell and Vyv Hope Scott aka The Jellilalas
Andy Hague's Quintet with Jim Blomfield
Get The Blessing 
Sunday 6 January
In the afternoon from midday–6pm
James Lambeth's Lambeth Swing
John Law's Re-Creations Quartet with Sam Crockatt
The Bristol European Jazz Ensemble. 
Works big time... Putting a guitarist's stamp on Monk.
This tiny interview piece published in August went on to pick up shed loads of traffic more, much more, than any other of the hundreds of pieces to have appeared during the year on marlbank.
Work since then has cropped up in many albums-of-the-year lists including marlbank's own. Read the piece and have a listen via the Bandcamp link, below.
If you have not heard Work before you are in for not so much a treat as a feast. The only thing that remains is to hear Miles Okazaki, to whom thanks for doing the interview, live — asap. 
Work presents the music of Thelonious Monk as you have never heard the great pianist-composer's body of music in such a complete way before. The multi-disc undertaking takes his sound apart and puts it back together again. Work also makes me for one approach the ideas and imagination of Miles Okazaki, hitherto known in this manor mainly for his work as a sideman to MBASE innovator Steve Coleman, in a completely new light. I will certainly be returning again to the complex Trickster by this fine theoretician, which I enjoyed at the time of release and included a taste from on a 2017 marlbank mixtape, with new ears.
Okazaki grew up in Port Townsend, Washington, and began gigging on electric guitar in his early teens. In the 1990s he moved to New York and went on the road with saxist Stanley Turrentine and later, a little bit improbably at this distance, singer Jane Monheit. His albums show an active mind full of ideas and solutions to harmonic problems while never forgetting how to groove and communicate. His book, Fundamentals of Guitar, was published in 2015. 
"An internally consistent world that you can enter and inhabit" — Miles Okazaki on Thelonious Monk
Miles Okazaki playing solo in a vast organic guitar project that dropped out of the blue online earlier this month may well have done the same within his own prism of protean ideas and individualism as Marc Ribot achieved when he interpreted the music of Albert Ayler. 
What most spurred you on to undertake such an epic task?
I get into this in depth in the liner notes, but the short answer is to undertake a period of focused study, in the Sonny Rollins Williamsburg Bridge model, which is also something that Steve Coleman does from time to time. 
How have your deep harmonic studies so far fed into your interpretations?
Harmonic studies don't factor a lot into this project, as the harmony is provided by the material itself. The main factor is my interpretation of the tunes is not harmonic, but rhythmic.  
Why does Monk mean so much to you?
His music has resonated with me from my earliest days. It is deeply logical, soulful, rhythmic, and is an internally consistent world that you can enter and inhabit.
Describe your guitar (s) used and most importantly the strings and how you amplified them?
A 1978 Gibson ES 175 Charlie Christian archtop guitar, Thomastik flatwound gauge 14 strings, Fender Twin reverb amp. One pair of stereo mics, one on the amp, one on the guitar body. This is the setup I've used for 20 years. Flatwound strings because I like to have a mic right up next to the guitar, and roundwounds would be too noisy at that distance.
What posed the most difficulties researching the album?
It was not difficult, it just took a long time. So I suppose it's a matter of maintaining focus over time. But that's my main strength, going slowly and eventually getting there.
Will you do solo Monk themed club gigs in the US or further afield? 
Yes, I already do them. I'm playing a small club called Lunatico in Brooklyn on Monk's birthday this year, in fact. SG
Photo, top: www.milesokazaki.com
2019

promises to be a huge one for Ronnie Scott's because in October the great London club marks 60 years, its diamond jubilee, in the game — firstly on Gerrard Street in what is now called Chinatown and latterly in Soho — thriving on a riff and remains at the heart of jazz as a crucible of creativity and talisman of the scene. 
All roads lead to Frith Street, once more, come 2019.
Just one piece of club lore illustrates one example of just how much the club has fed into jazz and for that matter even movie history: Sonny Rollins who was commissioned to write the score to the 1966 film Alfie had been playing at Ronnie Scott's.At the end of one evening, Rollins asked to be allowed to stay after the club had been locked up. As the very talented jazz writer Sholto Byrnes whose byline is much missed these days wrote years later in The Independent conjuring the legendary event: "As he sat there alone, he could feel all the musical memories, the ghosts of former performances, breathing from the walls, he later recalled. And by the next morning, he'd written most of the film's soundtrack." Approaching the club from Soho Square, late at night. Above, 2017 photo: marlbank. Night people. My love and I are night people. We're like the restless neon light people, the bright people. From the song by Tommy Wolf and Fran Landesman conveyed wonderfully by June Christy on the 1959 Capitol album, Ballads for Night People. How apt.
Digital-only albums are almost becoming a "no filter" endeavour, if not easy to define genre, in themselves — this is a rather beautiful work by the prolific and woefully underknown in the UK anyway Russian master Simon Nabatov who is far better known about on the German scene, and without any fear of exaggeration is one of the world's great improvisers.

 


Motivation he succinctly describes as: "My first attempt to come up with an entire program of pieces for piano and live electronics. It has a suite-like form, with certain motives [sic] reoccurring throughout. The dialogue between solo piano and electronics also concentrates on the motivic aspects of the material, at times more so than on the sonic aspects — hence the title of the album." 


Recorded live at Cologne jazz club, "space", might be a better word, Loft, seven months ago, you do get the paradoxical sense that this is an internal conversation and the piano and electronics take on the mantle of protagonists who share and or debate their experiences.

 


The electronics are the more severe, testing voice, the piano the sensitive gentler side. But make no mistake this is not a soft lulling album full of twee resolution and comfortable certainties which often happens in solo mainstream settings and become one of the faultlines of that style when bossas and lullabies tend to stand in the space reserved for tender thought but prevent real adventure given the road block of sentimentality in the way. Nor is this a daft "anything goes" scattergun free-for-all approach that can bedevil the world view and outcomes of hardcore improvisers.

 


Nabatov is not about either. The Russian-born master turns 60 in a few weeks. He also does not fit into any commercial orthodoxy which means he may not sell a lot of records but certainly in his laboratory of ideas is left to find an original path.
The very intimate duo album with

Nils Wogram

Moods and Modes back in 2011 was the last album of 

Nabatov's 

that I actively listened to and thoroughly enjoyed, however, Monk n More released in 2016 compares better to this latest work not least because it also embraces electronics, had some Nabatov originals along with the Monk explorations, and was recorded in the same Cologne environment which he returns to often.  
What Nabatov is successful at here is accentuating the abstract sense of "free" — open structured improv — which is the area that he mostly resides in. I would compare him to

Misha Mengelberg

most in certain key aesthetic respects (while regarding the electronics side of the improvising or the piano-electronics duality think of the sound approaching a 

Craig Taborn

 method perhaps). Nabatov, it is very obvious, however, has his own very poetic accents to his meditations at play and above all Motivation is a detailed and involving meditation that has a vision that will send you into a dreamworld of discovery and enlightenment like no other.
Stephen Graham
Reading through endless best-of lists, ours is here by the way, it is often impossible to gauge criteria and beyond that why people react and how they react to new jazz. The criteria we used as discussed here is that: 
The album has heart and soul. In other words we as listeners have to believe in its truth. 

It speaks directly to the listener. It is a genuine statement of artistic discovery. 

It has artistic merit more than the sum of its parts. There is a sense to it as a whole. Therefore it can exist on a number of levels that can then aspire realistically to universality.  

Musically it is obviously even to an untutored ear excellent. It can be the work of a stylist or an innovator. Neither one nor the other takes priority because there is nothing new under the sun so why pretend even if it sounds somehow unearthly? 

It is not typical of the style it lands in. 

As a listener we want to listen to it over and over again. That is the clincher.
Why and how people react is another very large subject entirely and probably strays over into the realms of psychology and discussions of aesthetic choice and appreciation.
These are some of the factors at play:
If the work in question is topical, ie new, then it can resonate strongly because we like novelty.

If it relates to a demographic or generation that we belong to then there is a subliminal comfort that leapfrogs a more difficult or lengthy process of familiarisation.

If the album or live performance is relatable to values we admire (the story behind the album, particularly if polemical or political) then it can strike home in a direct way which means it again can be consumed more quickly and immersed more completely sitting alongside the cultural totems that we already have painstakingly assembled over many years.

If it seems relevant. Basically there is a point to taking the trouble to react to what is before us.

The most difficult to achieve in terms of reactions is beyond the feeling that "yes this is great" to upgrade it to and "yes it moved me."
How something "great" can then move higher to "move" anyone is completely mysterious. That highly subjective process cannot be measured although it can be guessed at via an interrogation of response.
As we seem to find music and travel through it in emotional terms whether we admit to that or not this aspiration of being "moved" by something is at the top of a reaction pyramid because this is about an inner, permanent, life. It certainly challenges us as listeners to search for our sound, our song. SG
One of the UK's biggest jazz festivals in Gateshead is taking a break this year. "The season," the organisers stated before Christmas, "is part of a refreshed approach to programming jazz at Sage Gateshead, which will see a broader year-round programme and a new, fixed-date slot for the Gateshead International Jazz Festival. The annual festival will be relaunched on the third full weekend of March in 2020 after taking a break next year."
While the jazz festival scene in the north-east is as a result of this temporary absence undergoing change in early-2019, over in the north-west of England Tony Kofi and Zoe Gilby are among the

Southport

line-up at one of the fixtures of the seaside scene there.
You may know Kofi for his work in the heyday of Gary Crosby's Nu Troop or playing with Abdullah Ibrahim, World Saxophone Quartet and Ornette Coleman and of course his own records that have consistently put a dusted down stamp on vintage hard bop and beyond. Zoe Gilby, Champian Fulton, Scott Hamilton, Alan Barnes, Joe Stilgoe are also scheduled — the mainstream-jazz festival marks its 15th milestone this time around. Dates are 31 Jan-3 Feb.

Website

.

Also returning is the 

Liverpool international jazz festival

 spread over 21-24 February. The

Liverpool

line-up include a much more adventurous mix and the organisers are to present prog-jazz-electronica band Strobes (Fri 22nd Feb, above), heritage mainstreamers the Darius Brubeck Quartet (Sat 23rd Feb), and the go-ahead piano trio Vein featuring Andy Sheppard (Sun 24th Feb).  
In

Bristol

China Moses, Richard Galliano, Pee Wee Ellis, Dennis Rollins, Soweto Kinch, Yazz Ahmed, top, Huw Warren, Liane Carroll and bluesman Lucky Peterson are among the headliners at the Bristol international jazz festival, which runs from 22-24 March.
In terms of quantity as well as the quality of the national and international headliners taking part Bristol clearly takes over from Gateshead this year as the most significant UK festival to be held before Easter. 
1 Edition
Styles encompass chamber jazz, dreamy vocals and prog-jazz. Their Ant Law release Life I Know was a winner among a rash of great releases. 
2 Gondwana
Spiritual jazz and increasingly electronic-jazz leaning: the inspirations of Alice Coltrane and Pharoah Sanders are never far away while the jazztronica of bands such as Mammal Hands point to a vastly different dance and chill-out arena.
3 Pi
Avant in a very American sense, Pi are also good at finding new artists and also providing a canvas for masters such as Steve Coleman and Henry Threadgill.
4 Biophilia
Musician run label that values visual presentation as well as curation, records by Justin Brown and Maria Grand stood out this year. 

5 Stoney Lane
This small British label based in Birmingham has found its feet in 2018 more than ever by moving away from the hit and miss avant garde to dreamy, literate vocals, with the Liane Carroll influenced What We're Made Of by Sara Colman lighting us all up.
6 Ubuntu
A fairly new label whose output is still patchy but this year impressed most with records by Martin Speake and Helena Kay.
7 CAMJazz
One of Europe's very best labels over many years. Their championing of the bandleading output of Antonio Sánchez over a sustained period is a significant example of just how vital their work is building on their love in the past of the music of Kenny Wheeler. 
8 ACT
Out of the doldroms this year their output is still patchy and many of their releases remain far too middle of the road. They scored mightily however with the brilliant Sfumato and reminded us of the majesty of EST. 
9 Gearbox
Set up initially as a strictly vinyl-only label Edition continue to grow. The unreleased 1963 radio air shot tracks that formed Mønk was beautifully mastered, and their new signings remain inspired.  
10 Whirlwind
Sometimes too prolific and too unwilling to stray too far from bebop and the new Cool School not everything worked this year for this musician-owned label. But Vista by Julian Siegel made up for the flops, a quite brilliant statement from the saxophonist and his mighty quartet.
Great chops are not enough by themselves. You get loads of them here. But there is something missing. P-G-L's first outrageous display of musicianship on their self-titled debut release in 2016 left me a little cold ultimately. Something About Rainbows has a Pink Floyd feel with added hidden spaces to it but is a lot more verbose, one of the great faultlines prog-jazz falls into. Big grandiose themes huddle around the compelling fire of the formidable bass guitar of Kevin Glasgow and just let the trajectory of their improvisation burn and yet just as often fizzle out. Drummer Laurie Lowe, best known for his work with pianist Robert Mitchell, is a little bit to samey throughout, and the David Preston guitar solos are easy to admire but do not for a moment kid you into ever loving. What lets the album down above all is that the compositions are simply not compelling enough. SG.